The success of any development project, whether it is a business venture or a residential undertaking, depends largely on the location it is placed on. Although this was also the case with Sedona Parc, with this project it was known that the location was ideal from the outset. Located as part of an overall two park larger project, providing residences in a predominantly business sector was bound to meet with approval, especially as it would also incorporate its own park area as one of its main features.
The location however was not just well suited for business purposes; it was also well suited as a residential site due to its nearby and easily accessed schools, stores and banks, necessities for any convenient residences.
Schools
Mabolo Elementary School is located 0.59kms from Leyte Loop whilst the Pope John XXIII Seminary is located at 0.65kms from the site, as is the Colegio De La Immaculada Concepion Cebu. At 0.72kms is the HP Review Center and at 0.73kms is the Bagong Lipunan Elem School.
Shopping
N N Concrete Products, a DIY and garden Center is located 0.44kms from Sedona Parc whilst the Mango Ayala Branch, a shopping Mall, is located just 0.46kms away. Perhaps the biggest asset for shoppers residing in Sedona Parc though is the fact that it is only 0.47kms from the Ayala Center Cebu. The Ayala Center Cebu is home to a mall containing over 500 units including shops, cafes, restaurants, a cinema and entertainment venues.
Restaurants
Although there are of course many dining options in the Malls, other restaurants are even closer, like The Social at 0.41kms, The Portal or Murrays New Orleans at 0.39kms, The Marriott at 0.38kms or even closer, at just 0.28kms, the Kiwi Lodge Bar Restaurant.
Hospitals
Accidents or illnesses can occur at any time and so it is always good to know that professional medical facilities are close by and in the case of Sedona Parc those facilities include the SuperCare Medical Services Inc. Cebu 1.44kms away, NCCCD Nephrology Center Of Cebu City Dialysis 1.08kms distant, the Perpetual Succour Hospital at 1.02kms and the De Leon Cosmetic Surgery Center just 0.73kms and closer still at 0.69kms, the Cebu Skin Clinic.
International Airport
Just 20kms from Cebu City is the Mactan – Cebu International Airport Authority (MCIAA) which provides a 3 to 4 hour travel time to 14 of the Asia Pacific's cities. Future plans for the airport include extending the terminal to facilitate an Airport Rail Network, making things still more convenient for Cebu residents and businesses.
Cebu Seaport
Although Cebu's seaport is only the 2nd largest in the Philippines, it is the country's main domestic port, dealing with 80% of Philippines's domestic shipping needs. This of course makes Cebu an excellent location for domestic industries of any type and developments like Sedona Parc allow the leaders of those industries, tranquil residences conveniently located nearby.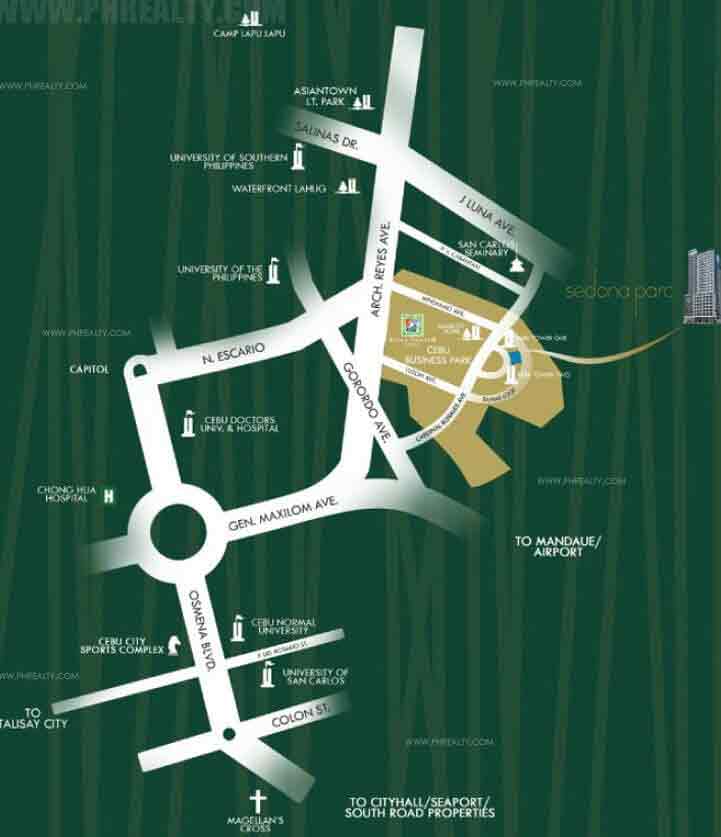 Located in a Leyte Loop, Sedona Parc will be situated in a residential territory inside the Cebu Business Park. It will be right beside Park Tower 2 – a residential condominium by Cebu Holdings. As co-developer, Alveo Land will be developing the 3,000 square meter front park as an extended amenity to Sedona Parc. As part of the Cebu Business Park, Sedona Parc will be a home, office, and residential building set amidst the green stretch with wide avenues. Sedona Parc is distinct to offer key office and business establishments in Cebu. It also will be a short drive away from the growing business district catering to BPO – the Asiatown IT Park. Moreover, adding to the value of this location, Sedona Parc is in close proximity to the Ayala Center Cebu. Thus, Sedona Parc provides residences a fulfilling retail and leisure experience.